Golden Pomfret 金鲳魚

金鲳魚 (Jīn Chāng Yú)

Ikan Bawal Emas / Nyior-nyior

Kim Cheor / Boong Cheoh
Country of origin Malaysia Waters
Seafood Source Farmed
Sold As Freshly Chilled
Preparation Methods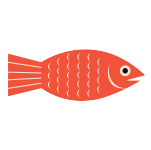 From SGD $9.50
Golden Pomfret is more commonly found in the wet markets than the rest of the pomfrets as they are mostly farmed. This fish actually belongs to a family called Pompanos but they are usually grouped together with the Pomfrets.
Texture
The natural tasting fish has very little fishy taste and it has a subtle sweet taste with firm texture.
Note
The listed weight range is before any descaling, de-gutting and cleaning of the fish. Their scales and gut carries weight too!
All whole fishes are de-scaled and de-gutted for your convenience.
Orders are vacuumed packed to maintain product freshness and quality.
Cooking Methods
Can be filleted and used to cook porridge or for steamboat.
The flesh is white and firmer as compared to the Chinese Pomfret.
Can be served Steamed, Pan-Fried or Deep-Fried.
Try Pan-frying it with Teriyaki sauce!
Share this product: