Snakehead 生鱼

生鱼 (Shēng Yú)

Ikan Toman

Toman
Country of origin Thailand Waters
Seafood Source Farmed
Sold As Freshly Chilled
Preparation Methods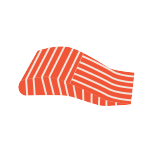 From SGD $5.90
This fish is native to Southeast Asia and is a widely consumed freshwater fish. They are a popular game fish because they put up a strong fight when being hooked and this attracts the likes of many anglers.
Snakehead aka Toman has been known for its medicinal healing properties that accelerates healing of wounds and reduces scarring especially after undergoing surgery.
Texture
It has a white flaky meat and a mild flavour. Despite its 'ugly' appearance, it has very little fishy aftertaste.
Note
The listed weight range is before any descaling, de-gutting and cleaning of the fish. Their scales and gut carries weight too!
All whole fishes are de-scaled and de-gutted for your convenience.
Orders are vacuumed packed to maintain product freshness and quality.
Cooking Methods
Fillet is sliced and widely used in fish soups.
Flesh used as a versatile ingredient in many household dishes.
Local Zi Char dish San Lou Hor Fan uses this fish slice!
Share this product: